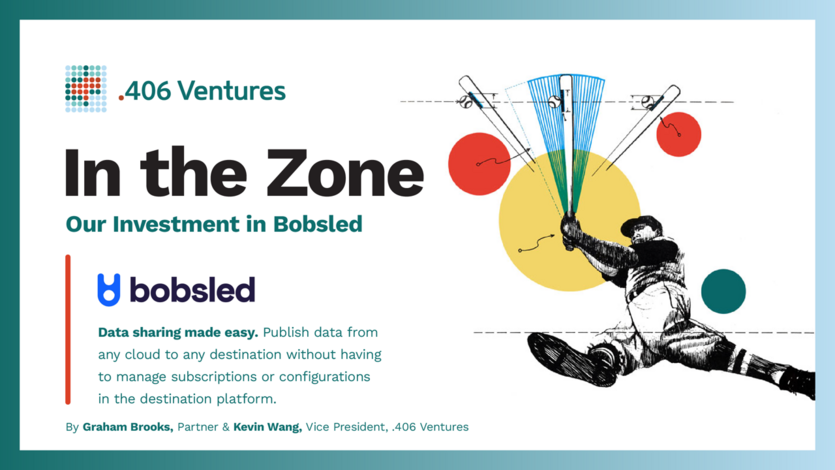 By Graham Brooks, Partner, and Kevin Wang, Vice President, .406 Ventures
"Bobsled's data sharing platform enables data providers, SaaS companies, and data teams to share analytics-ready data products natively into a consumer's data lake or warehouse, enabling their customers to spend less time on data wrangling and more time generating insights." – Jake Graham, Co-Founder and CEO of Bobsled
When .406 repeat entrepreneur Josh Neckes first introduced us to his Bobsled co-founder, Jake Graham, it felt like all the stars were aligning. Not only were we keen to back Josh again, but we were also actively looking for a company that would bring data sharing into the modern data stack.
.406 has spent the past decade backing companies that solve the problems of aggregating, cleaning, and transforming internal data into trustworthy assets to drive decision-making. This approach led to our investments in full platform companies like Reltio, which has become the leading cloud-native master data management solution, as well as Abacus, which focuses on healthcare data, and Simon Data, which focuses on marketing use cases.
Through these investments, we saw over and over again that as soon as a company had a trusted data repository for its own data, it immediately started thinking about how to augment it with third-party data. In the current environment, this integration is often done manually and at great cost.
The root of the problem is the 50-year-old, legacy technology that powers the large ($250B+) and rapidly growing (25%+ CAGR) third-party data market. Almost all data providers still sell their data in formats like CSV files (comma separated values) and transfer it in batch processes through technologies like Secure File Transfer Protocol ("SFTP"). This process flattens the original data from its rich database format, leaving behind the valuable information captured in the database schema and all the relationships between data elements. Furthermore, it is left to the customer to retrieve the data from the SFTP site and complete the arduous and time-consuming process to transfer, transform, load, and manually reconstruct the database; following that, the customer still needs to integrate the new data into their data warehouse of choice. Bobsled solves all of this.
What is Bobsled?
Bobsled is the first, best, and only data sharing platform that automatically enables secure data ETL ("extract, transfer/transform, load") between common data platforms, while maintaining the original schema and all the rich relationship information. The company's goal is to reinvent the way data is shared across organizations and data platforms, and their cross-cloud infrastructure represents a new and important component of the modern data stack.
The vision for Bobsled came from its founders' lived experience working at companies including Microsoft, Apple and Neo4j. The founding team brings incredible expertise in technology (specifically database and data pipeline creation), as well as go-to-market strategy experience. In particular, Jake Graham, Bobsled CEO, spent the last several years as the Lead Product Manager overseeing the creation of the Azure Data Exchange, which facilitates cross-company data exchange if the source and destination are both on Azure. Through this experience, he realized that the companies driving cloud innovation like AWS, GCP, Azure and Snowflake (aka 'hyperscalers') wouldn't solve this problem beyond their own walled-gardens -- the only solution was to create a new company to fill the void. 
How is Bobsled changing the game?
The hyperscalers are motivated to make it as difficult as possible to move data out of their own environment, as they seek to hoard data on their servers which drives their compute and storage revenue. This places third party data providers in a challenging situation: caught between customers who want data-as-a-service provided wherever they need it and hyperscalers who have designed their infrastructure to prevent easy exfiltration.
Bobsled makes cross-company data sharing customer-friendly by automating all the hard and manual ETL work for the data buyer. With just a few clicks, an end-user's data team can get data in the format that they want, shortening a 6-month process to just minutes.
Bobsled also reduces cost for the data sellers, enabling them to establish an immediate presence on all key platforms at a fraction of the time and expense, all while delivering a better customer experience. Furthermore, Bobsled reduces data storage and egress fees, as it enables users to only move the data they need, rather than moving and storing full data sets. Given the strong ROI driven by this unique solution, it's not surprising that we saw so much early demand from the leading third-party data providers.
Since our investment, we have already seen data companies move their full data sharing infrastructure entirely onto Bobsled. We believe that over time, all data providers will make a similar choice, because Bobsled's dedicated focus on the efficient distribution of data is cheaper, safer, and technologically superior to homegrown approaches.
Data sharing with Bobsled: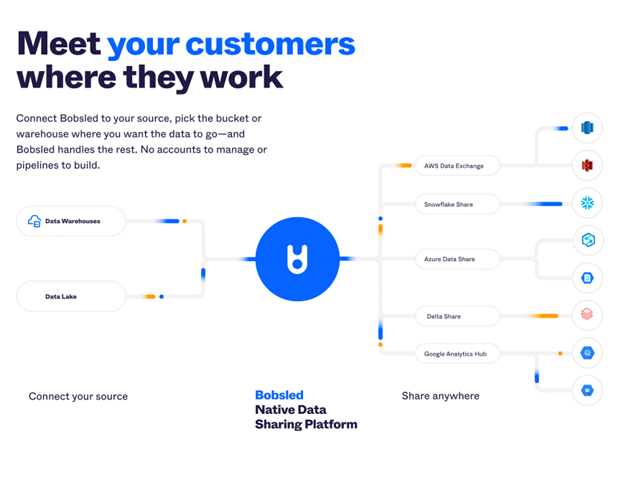 Source: Bobsled
.406's journey with Bobsled
.406 Ventures led Bobsled's seed round in February of 2022 because we believed in the disruptive and revolutionary nature of their work. The company delivered on several of our core investment theses, fitting snuggly into our existing data portfolio and leveraging past investments with many opportunities for intra-portfolio collaboration.
We are excited to be partnering with Greycroft and Madrona as we accelerate into this next stage of growth. We could not be more excited to be on The Sled.
If you'd like to learn more about Bobsled, please contact us or find out more here.
In the Founder's Words, from Jake Graham, Co-Founder and CEO
WHAT'S BOBSLED?
Bobsled is a cross-platform data sharing platform that makes it painless to share data between any data lake or warehouse. We enable product and data teams to share data products directly into a customer or partner's preferred analytical environment without ever leaving their own.
FAVORITE QUOTE:
The concept of the Total Vortex Machine from The Hitchhiker's Guide to the Galaxy by Douglas Adams has always stuck with me. "To his satisfaction he realized that he had proved conclusively that if life is going to exist in a Universe of this size, then the one thing it cannot afford to have is a sense of proportion."
BEST ADVICE RECEIVED:
Hire good people and get out of their way.
BIGGEST LESSON LEARNED SO FAR:
One of the interesting parts about building a new category is that people don't really understand the problem you're solving yet, even when they recognize and agree that they have it. The difference between how people said they planned to use our product and how they actually use it is greater than any other product I've built previously, and this has led to really interesting and exciting learnings for how we shape the future of our product and category.
PAIN POINT ADDRESSED:
Sharing data between companies is an error-prone, antiquated process that requires toil, creativity, and heroics from both provider and consumer.
MILESTONE MOMENT:
When the CEO of our first customer referred us to one of their partners, saying, "Bobsled is one of the best vendors we've ever worked with. They've already accelerated our development by years. I couldn't recommend them more highly."
TECHNOLOGICAL INNOVATION:
One of Bobsled's biggest innovations is in the cross-platform nature of our product. Software products in the past few years have become multi-cloud, allowing their users to choose which individual clouds and platforms to deploy them in. Bobsled, however, allows our users to manage and orchestrate developments in every cloud and necessary data platform simultaneously, leading to a footprint in every ecosystem, which just wouldn't be possible otherwise.